Guided Tours
Do you feel a bit worried riding around the crowded streets of Tokyo by yourself ? Do you want someone to show you around Tokyo ? Then let us guide you ! We'll be happy to ride with you and show you around Tokyo, providing our schedules meet. Please feel free to contact us if you're interested.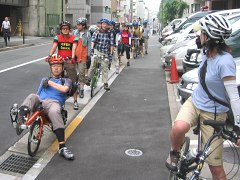 Conditions
We currently do not have any pre-scheduled rides. Guided rides are scheduled on a per-request basis.
Guided rides can be scheduled on WEEKENDS ONLY, when any of our staff are available.
Please contact us at least 2 weeks prior to your preferred date of the guide ride.
After confirming the above conditions, contact cycle-tokyo.info@cycling.jp to request a guide.
When sending a guide request via email, be sure to include the following information :

Name
Preferred date of guide
Arriving date to Tokyo
Departing date from Tokyo
Number of People joinig the ride
Prefered course (Any requests you have. Please refer to our Ride Courses page for some suggestions)
Bringing you own bike, or planning to rent one
Experience in cyling : Beginner / Intermediate / Experienced/Sport Rider
Where (what country) will you be visiting us from ?
How did you find this website ?
An email will be returned upon recipt of the request.
---
Powered by Cycle Tokyo Project