Contents
1. Getting Around Tokyo
1.1 Distances around Tokyo
The 23 wards of Tokyo are roughly located within a 20Km radius of the Imperial Palace, the center of Tokyo. Central Tokyo, the area within the JR Yamanote loop line can be covered within 5-10Km from the Imperial Palace and JR Tokyo Station.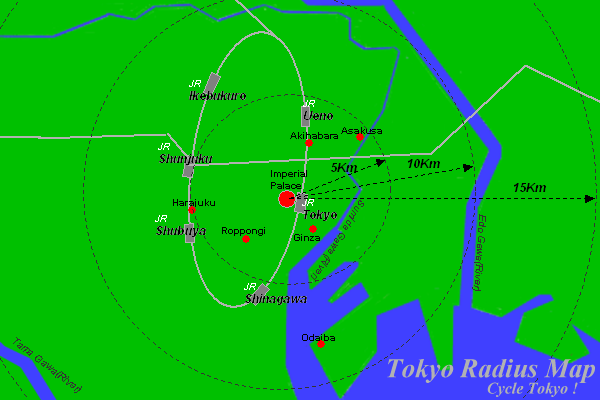 1.2 Overview of Main Roads
The overall road structure of Tokyo is as follows :

Several major roads circle around the Imperial Plalace. From the center is Uchibori-Dori which run along the palace, then, Sotobori-Dori, Meiji-Dori, Yamate-Dori, Kanjo 7, and Kanjo 8.
Major roads span outwards in a spoke-wise manner. Aoyama Dori, Koshu Kaido, Nakasen Do, Mito Kaido, to name a few.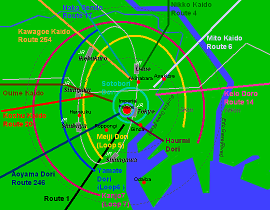 (Click for a larger view)
1.3 Central Tokyo
The area surrounded by the JR Yamanote Line with the Imperial Palace in the center, is recognized as Central Tokyo. JR Tokyo Station stands adjacent eastward to the Palace, with Ginza and Yurakucho nearby.
With the Palace in the center :

Akasaka and Roppongi is southwest of the Palace, streching outward to Aoyama and Shibuya.
Shinjuku lies west of the Palace, and Ikebukuro is northwest
Ueno, and Akihabara is northeast of the Palace.
Shinbashi, Shinagawa is southward of the Palace.
1.4 Area Maps
"Tokyo and Yokohama Atlas"
SAKURA HOUSE Tokyo Map

Though a map provided by a real estate company, the interactive map is comprehensive showing the various districts of metropolitan Tokyo, and it's railways.
MapFan English(beta)

The English version(in beta) of a very popular map service in Japan. Because of it's origin, it should be one of the more detailed online English maps around.
2. About Tokyo
Links to general information about Tokyo can be found in the "Useful Links" page.
---
Powered by Cycle Tokyo Project