Contents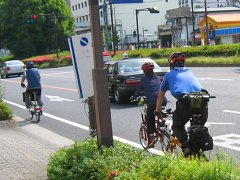 1. Riding Essentials
1.1 Things to Keep in Mind
Bicycles basically follow the same traffic laws as automobiles. All traffic signs and signals apply to bicyles as well.
Bicycles keep left on radways.
Riding in the opposite direction is prohibited.
Basically ride on the roadway. However, you may ride on the sidewalk.
Pedestrians have the right of way on the sidewalks. Cyclists bear responsiblity for accidents with pedestrians.
Helmets are optional but strongly recommended.
Lights and a reflectors are required for night riding.(you will be stopped without one. )
Drunk riding is against the law.
1.2Road Signs
Coming Soon....
1.3In Case of an Emergency
In case you are involved in a traffic accident, keep calm and follow the measures listed below.
Move your bicycle to a safe place out of the way of traffic.
If there are any injuries, call the fire department (119). Until rescuers (including physicians and ambulances) arrive, give first aid (such as stopping bleeding with gauze or a handkerchief) to the best of your ability.
Immediately call the police (110) and inform them of the location of the accident, the number of injured persons and the extent of their injuries. The police will then give you instructions.
If you are not injured, do not leave the scene of the accident until police officers arrive.
When you cause a traffic accident, you are required to assume civil liabilities (compensation for damages). For this reason, ensure safe driving to prevent traffic accidents.
Reference
---
2.Tips and Tricks
2.1 Restrooms
Many restrooms are located in restaurants, convinience stores and public locations. They can be used for no charge.
Ladies can use public restrooms rather safely in Japan.
Restrooms located in restaurants or cafes rae usually more sanitized than public restrooms.
2.2 Parking Your Bike
Look for a bike parking (lot) before you park. There are some around the neighborhood. Parking insensibly in front of stores can lead to your bike being moved, or taken away.
Lock your bike up to a stationary object, and take any valuables with you. Though Tokyo is a sfe city, good bikes (and good parts) do get stolen.
2.3 Rin-Ko (Bikes on Trains, Buses)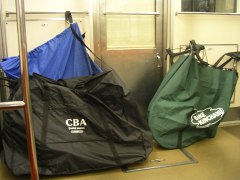 Taking your bike on the train does not require extra cost, but you have to put your bike into a bag. For standard bikes, you may have to disassemble it. Usually people take off the wheel(s) and tie them to the frame, then put into the bag.
There are many different types of Rinko-bags, that are sold in bicycle shops. Though some people just use a large plastic garbage bags, think of it as emergency use, as you can be stopped at the gate. (it may be worth to remember though)
3.How to Survive
Ride on the Sidewalks when Necessary

Though you are basically supposed to ride on the roadway, you will see a lot of bicycles can be seen on the sidewalks. Traffic on the road may be heavy in central Tokyo, and you may be overwhelmed. Safety comes first. You may ride on the sidewalk if you feel uneasy on the roadway. However, remember that pedestrians have the right of way on the sidewalks. Cyclists bear responsiblity for accidents with pedestrians
Watch for Parked Cars and Opening doors

There are ALOT of parking (both legal and illegal) on the roadways. Be careful of opening doors and cars. Watch for cars passing by before moving to the center of the road to avoid them.
Don't be Intimidated by Honking Cars

Cars will honk at you just to make sure you know a car is coming. Don't be
intimidated.
---
Powered by Cycle Tokyo Project