2006 was special for the Cycle Tokyo Project being it's startup year, with the website going online in July.
Surprizingly, we started getting constant contact (various inquiries, ride requests, etc.) the moment we made ourselves known, and we realiazed the power of the internet. (or Google, should I say ? Look up "cycling" and "Tokyo" on Google, and we're on the top 3 now ! :-))
Website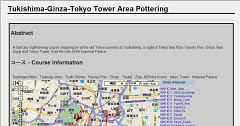 We've continued to grow the site with more information since the start.
We currently have a list of ride course recommendations, 3 of them with detailed explanations and route maps. We plan to expand on that. We have a good list of bike shops around Tokyo, some riding tips, and a list of good references.
Feedback is welcome, please tell us what kind of information you need in your bike life in Tokyo.Your advice helps to make a good useful site and source of information.
Online Interaction
We started getting email inquiries (cycle-tokyo"at"cycling.jp -change "at" with @)soon after our site opening, and they continue to come constantly after 6 months. We're verry happy about that, because it just feels good helping out fellow cyclists visiting us, and that what we're here for. It also helps us to find out what kind of information people need when cycling in Tokyo
Inquiries range from rental bike information to from people overseas planning a visit, as well as resident cyclists of Tokyo.
Of course, we get requests for guided rides, which is mentioned below.
Guided Tours
We offer volunteer bike rides as part of our activity. Though we honestly didn't expect much of this to happen in '2006, we were again surprized to recieve multiple requests right from the beginning. Since we all have daytime jobs, it was sad that we had to decline some of them with regret. We hope they had a good time riding in Tokyo anyway.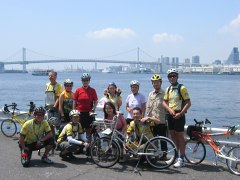 In July (yes, right after our website opening !), we had our first guided tour.
The Bike Friday Hokkaido Tour group, had requested for a guided tour of Tokyo on their bikes, on their stop-by in Tokyo. We took the group of 11 around lower (traditional) Tokyo covering the old and new of Tokyo, stopping by places such as Tsukishima, Tokyo Tower, Zoujouji, and Ginza. The guide tour ended near the imperial palace where we set up a Bike Friday gathering with local enthusiasts.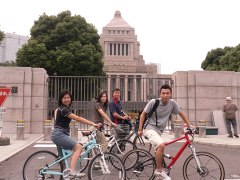 In the end of September, we had a chance to meet 2 couples from Hong Kong visiting Tokyo.
We planned a short ride based on the "Japanese fast-food" bike tour, which they requested. Cycling around Tokyo must have been a very interesting experience, as we learned cycling around town in Hong Kong was not a typical thing to do. During the ride, we challenged their appetite and curiosity with traditional fast food such as Taiyaki, Nikuman, and Takoyaki.
Thanks Angel and the gang !
Wrap Up
Considering it was our first 6 months, we had alot of activity going on, much more than we expected. We had thought that the momentum build up after the website opening would be much slower, so this was a happy surprise for us.
For 2007, we plan to continue the effort (and fun !) we put in this year, continue providing interesting information both online and offline. and keep building our status as the one-stop reference for Tokyo cycling !
Again, feedback and comments are welcome, as they will help to make the website and our service better.