The Tour de France has become popular with Japanese cyclists.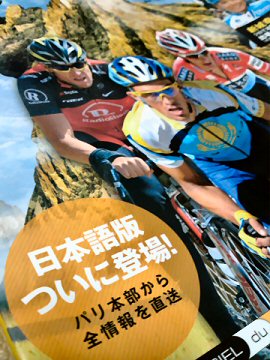 How to watch the Tour de France in Japan?
If you would like to watch the Tour de France on TV, It need to have cable and satellite.
"J sports Plus" is the only channel to watch it.
They also broadcasts the Giro d'Italia (Italy), the Vuelta a España (Spain), and some stage races.
It costs around 5,000 JPY par month. (inc. basic rate)
I recommend to go to "English pub HUB" if you can't watch it in your place.
The live broadcasting starts around 9 p.m. on weekday.
It's good airtime watching the race with a pint in hand.
But it's about 24:30 that sprinters, such as Cavendish and Hushovd, are crossing the finish line.
Exciting races make us lack of sleep every night.
J sports Plus
http://www.jsports.co.jp/english/index.html
English pub HUB
http://pub-hub.com/

Samurai Cyclist
For the first time, Two Japanese cyclists completed the all stages of the Tour de France and arrived in Paris last year.
They are Fumiyuki BEPPU and Yukiya ARASHIRO.
That results convinced us that they will get a stage winner in the near future.
ARASHIRO entries into the race this year and won the sixth place yesterday.
I can't take my eyes off him.
Yukiya ARASHIRO (Bbox Bouygues Telecom)
http://www.letour.fr/2010/TDF/RIDERS/us/coureurs/152.html

Masa