Spring Time (at last !)
We had a rather cold beginning of the year, but the weather is finally beginning to gt spring-ish.
With Golden Week approachng, hope is that there will be warm and sunny days so we can cycle around !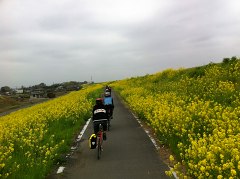 Last weekend, some of Cycle Tokyo! members went out riding along the Tone River located north of Tokyo, started from Kurihashi and headed for Takasaki City, Gunma Prefecture. A one way ride just around 90Km total, was a very smooth one thanks to light follow wind. We packed our bikes and took them on the train to Kurihashi, and on the way back home from Takasaki.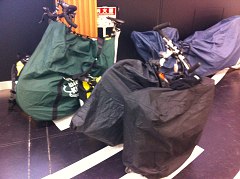 A continuous carpet of very bright yellow Cole Flower (Celery cabbage) spreads along the cycling road, in full bloom just about now.

View 2012/04/21 Kurihashi to Takasaki Cycling in a larger map
April to May is a very good time to cycle here in the Kanto area.